The Enlightening Truth About Online Schools
As most schools reopen, the persistent anxiety caused by the pandemic remains. Online schools and classes are gaining traction as parents aim to keep their families safe and healthy. In truth, even before Covid-19 hit, homeschooling has become an increasingly popular option for parents as a more viable means of imparting quality education to their children. The approach to homeschooling depends on the family, some opting to educate children themselves, while others hire teachers or tutors who are trusted and familiar with the syllabus to teach their child at home.
In 2020, online education has become more feasible, even for younger students. You no longer need to maneuver through websites and confusing interfaces. Everything can be done on a tablet, a device that children are very familiar with. With the minimal parental involvement required, why do some parents still hesitate to register their kids for online school?
We'll look into the pros and cons of online schools in this article.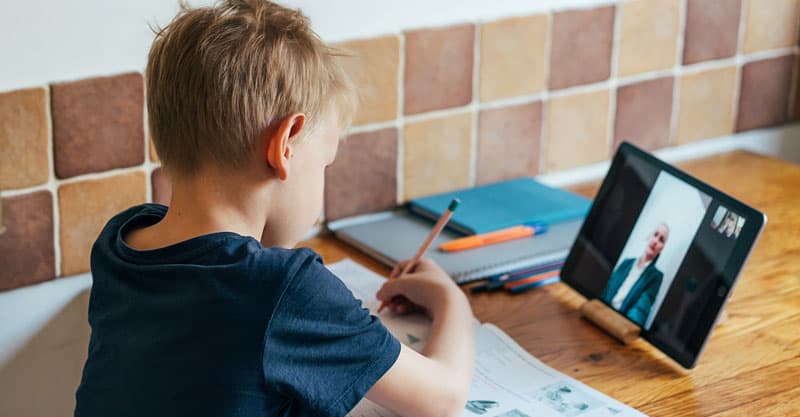 Pros of Online Schooling
Flexibility
Online schools are flexible, as you can find the schedule that suits your needs. Some students who go for online schools can also slot classes, breaks or activities in between. This means you are free to pursue enrichment classes or additional lessons without any worries. If students miss a class, they will not fall behind as these sessions are recorded.
Accessibility
Students can attend classes from almost anywhere! While time zones are a limiting factor, you will still be able to find the best classes and with the most suitable teacher and attend them with just a few clicks. No need to worry about commuting and accounting for the time you'd waste being stuck in a jam! You'll even get to travel with them during the school term, so you get off-peak rates without compromising on their learning!
Less distractions
Physical classrooms are susceptible to distractions that end up beyond your control; A rowdy class next door, students walking down corridors and a classmate's actions or reactions can draw students away from the lesson at hand. At home, you can establish your child's learning environment to suit them, without the outside noise. Those who are afraid of awkward situations in front of their classmates will feel more relaxed and focused as they're free from that pressure online.
Multimedia lessons
Online schools can combine different tools to make the lesson more interactive. Teachers can share videos without the need to haul out projectors and speakers and get students to submit answers anonymously through forms or polls. Students can also include images and charts on their work without the need to print or draw them out. Additionally, students who are more self-conscious can participate in class as they can use the chat function.
Affordable
You will not be paying additional fees for facilities or lunch, since your child will be learning from home. There will also be no need to spend on uniforms that might need replacing every year. You also save on time and petrol cost as travelling to and from school is no longer necessary. With PrepWorks Online Primary School, all the fees you pay go directly to your child's academic and personal development.
Cons of Online Schooling
Social interaction
Parents worry that their children may miss out on mingling with their peers if they attend online school. There's not much opportunity for them to chat with their classmates or get to know each other well. Children need to develop their social skills and emotional intelligence, therefore struggling to be heard in a class of 20 students online simply won't help.
Tech limitations and issues
When facing technical issues, such as the internet cutting out or devices not working as intended, younger students may have trouble fixing them. These technical difficulties can lead to missing class. Parents also express concern over the practice of particular skills such as handwriting, as most of them might rely on typing instead.
Requires self-regulation
Being in the comfort of your home has its benefits and drawbacks: you have the perfect environment for you, but it might also end up being too comfortable. Students need to remain engaged in class and the lack of a teacher's physical presence can cause them to wander off.
No facilities and extracurriculars
Students who learn online do not have access to school facilities, which can mean that they end up missing out on some sports activities they might enjoy. The lack of laboratory equipment and science materials also means that they would not be able to conduct some experiments with teacher supervision.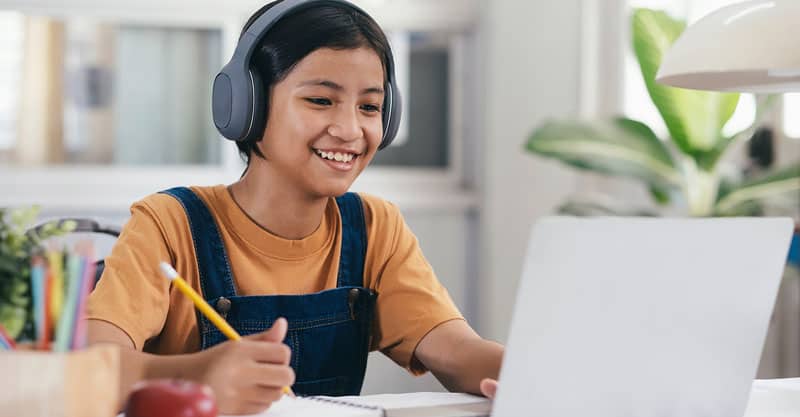 PrepWorks' Solutions
PrepWorks addresses and overcomes the limitations of online schools with several solutions. To promote social interaction and engage students, we limit the classroom size to a maximum of 8 to 10 students, so that no one gets left behind and students get their ideas or questions across.
Our combination of printed materials and handouts means students still get to practice writing along with typing. These materials are prepared beforehand, so parents get to just print them and not worry about anything else.
Students join classes just by clicking on the classroom link, minimizing the potential of technical issues.
We also prepare a handbook for parents to help them with setting up programs and tips on creating a conducive environment without distractions. Our teachers and administrators will keep in touch with parents to update them on any issues and answer any questions they may have.
While setting up extracurricular activities will be difficult for online schools, PrepWorks Online Primary School has a lean schedule, and our homework focuses on quality instead of quantity. This means that your child has time to participate in extracurricular activities around your area.
If you have always wanted to have your child try out online schooling, why not join us for a free trial? Our passionate tutors from top universities aim to make learning fun and interactive, giving your child a chance to develop their critical thinking skills and curiosity. This month, students who register will receive a 20% off their classes as well! Register today using the link below.