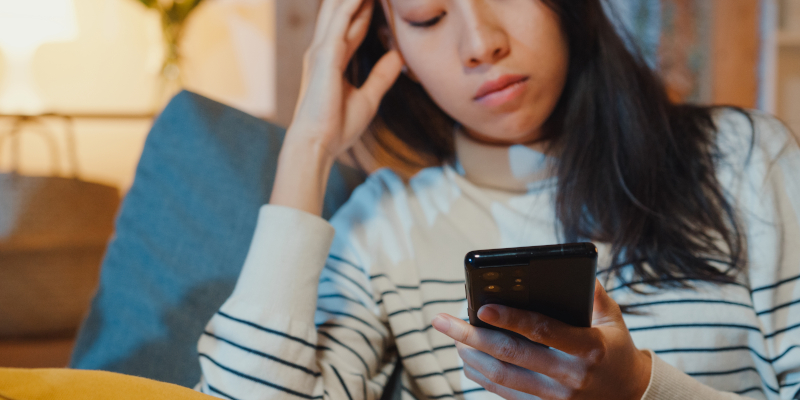 The Dangers of Doomscrolling
The importance of being informed is undeniable. With easy access to information, constant updates, people feel that it is their responsibility to be in the know so that they can prepare for whatever changes that will occur. However, there is an insidious side to the constant stream of information, where it negatively affects people's mental health.
Before reading on about doomscrolling, we would like to mention that this is not a call to remain ignorant, or make it seem like people are 'too sensitive' to bad news. Doomscrolling is an actual phenomenon that has grown more prevalent over the past few years. While we want to stay updated, we should also know when to step back.
The term is likely originating from Twitter in 2018, however the phenomenon predates the coining of the word. The practice of doomscrolling can be compared to 'mean world syndrome' a concept coined by communications professor George Gerbner in the 1970s. Gerbner proposed that viewers who were exposed to violence-related content on television can experience increased fear, anxiety, pessimism and a heightened state of alert.
Doomscrolling (or doomsurfing) refers to the act of spending too much time consuming and engaging with negative news. In 2020, the term became more widespread due to the uncertainty brought on by COVID-19 and other issues. People were compelled to keep up with what was happening in order to feel 'safe'.
Social media sites such as Facebook, also encourage the sharing of negative or controversial news via their algorithm. As these posts have increased engagement (comments, reactions or shares), they are more likely to go viral and show up in feeds, further enforcing the behaviour of doomscrolling. The phenomenon was so significant that the Oxford English Dictionary named it the word of the year in 2020.
Why do people doomscroll?
Humans have a tendency to be drawn to negative news and information as we are wired to anticipate or screen for danger. Checking the news gives us an idea that we are prepared or that we are in control, especially when current events leave many of us feeling powerless and worried.
However, the negative feelings generated from negative headlines feed further into the urge to 'be prepared'. Fear, sadness and anger are triggered by the consumption, reinforcing the need to know more to regain a semblance of safety. People who struggle with anxiety and anxiety-related disorders are more prone to doomscrolling, risking their mental health.
Why is doomscrolling bad for you?
Daily doomscrolling is proven to cause a negative effect. A study conducted in conjunction with Huffington Post has discovered that constantly consuming bad news can make a person more anxious, fearful and stressed. In the study, one group of people were told to watch negative news for three minutes, while another watched solution-focused news (stories about people who build resilience and overcame hurdles in spite of difficulties). Participants who watched negative news are more likely to report their days as bad days.
Negative news can influence how a person approaches challenges, as they are shown a picture of life in which their behaviour makes no difference. As we get bombarded with news highlighting problems in our world that individuals are powerless against, we end up with 'learned helplessness'. Our focus is taken away from what we can do, and we spend too much time dwelling on what we can't.
How to prevent doomscrolling?
Some people struggle with doomscrolling because they are not aware that they are doing it. The process of doomscrolling starts off innocently as the need to be updated, but as time goes on, spirals out of control. If this is the cause, setting a time limit or news article limit can help prevent it. Some people also suggest that checking the news only at a certain time, like in the morning before work, keeps them informed but prevents them from doomscrolling.
Selecting your news sources is also important. As some news sources rely on sensationalist news and speculation to drive clicks and views, the articles and videos from these sources tend to spread fear and shock instead of information. Do not get news from social media, as negative and possibly sensationalised news still receive more attention and shares.
Be ready to redirect your attention to something else when viewing news. If you realise that you are doomscrolling, stop immediately. Focus on something less stressful or step away from your device. This allows you time to process your emotions of what you have read.
Balance your browsing with positive news, media or activity. Instead of doomscrolling, check out news of what people are doing to help, or solutions that people are adopting. This can inspire you in ways you can contribute as well. Consuming solution-based or positive news is not an act of dismissing what is happening in the world, but helps remind you that the individual is not completely helpless.
Staying informed and avoiding falling into negativity is possible, but only if you take charge of what media you consume.