Build Top 5 In-demand Skills in Children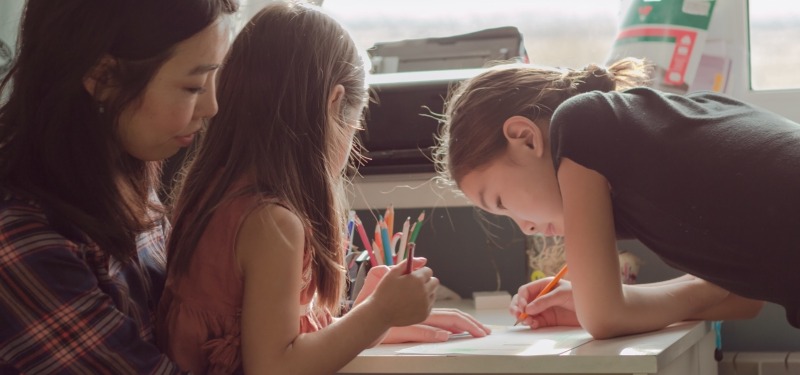 Previously, we covered the Top 5 skills employers look for in candidates which are oral and written communication; critical thinking; English proficiency; interpersonal skills and adaptability. Imparting these skills in children is difficult in classroom settings, as they require a teacher to tailor it to the individual student's needs and personality – a Herculean task in a classroom of 25 to 40 students.
Here's 5 ways you can cultivate these in-demand skills in your child:
Extracurricular activities that are not focused on academics gives children a chance to adapt to a different environment and task. Collaborative activities such as team sports or music clubs also promote communication and interpersonal skills as they get to work with peers who are not classmates. On top of that, your child gets to hone a new skill or talent!
2. Encourage them to discuss ideas or issues
As children grow, they are also learning the best ways to communicate and express their thoughts. Talking to them about things such as issues they face in school or their opinions about what is happening in the world, helps them articulate and refine their thought process. Discuss current issues with them to teach them communication, interpersonal skills and critical thinking.
3. Get them to read and write more
Students consume a lot of electronic media and mostly communicate online. This can lead to a lack of interest in reading and writing, weakening their written communication. If they enjoy movies based on books or comics, get them a physical copy, or something from a similar genre. Get them to work on letters, notes or even keep a gratitude journal to help them with improving their writing.
Get children out of their comfort zone by having them try out something they usually don't. Whether it is something small like learning a new recipe or getting them to do research on a topic, or something long-term like weekly volunteer work. These unfamiliar tasks teach them how to adapt to new situations and demands, giving them a chance to figure out a workflow that suits them best.
5. Provide a nurturing environment
Does your child have a space where they can voice out and express themselves? Some school environments or classroom settings cause students to become more meek or less communicative, especially when there's so many other competing voices speaking out. A nurturing environment where they can discuss their interests with friends or family builds their interpersonal skills as well as oral communication.
 Looking for suitable classes that can help build these skills in your child? Sign up for a free trial with PrepWorks Academy today. Our teachers focus on classroom engagement to maximise learning and interaction between students. Students supplement their education with lessons based on the National Curriculum of England, a syllabus suitable for students in all education streams to strengthen their English and critical thinking skills. 
Need a weekend class instead? Our StarWorks Weekly Program will be commencing this week. Featuring lessons on current affairs, students get to discuss what's happening around the world using the award-winning newspaper for kids, First News. Register today using the link below.