8 tips for better online learning
While many schools have reopened, it is no doubt that a new outbreak can lead to serious consequences. Parents face the dilemma when making the decision to send their children back to school: Should they risk their children's safety for the sake of maintaining their progress at school?
Rather than placing hopes that school authorities are stringent about standard operating procedures, and students remain respectful of the rules, some have turned to online schooling as a replacement. Even enrichment centers are offering online classes as a way to minimize contact. Converting homes to classrooms is not an easy feat, so here are some tips to help.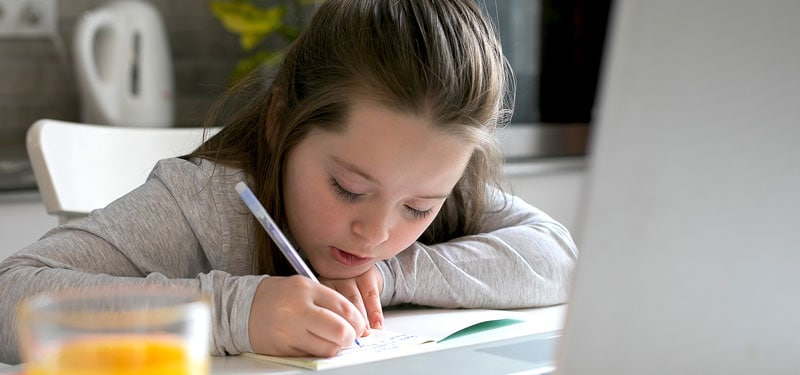 1. Create a conducive learning space
A quiet, comfortable space is important for them to learn at home. Set up a clutter-free table for children to do their work or attend classes without distractions. Children sometimes let their minds drift away when they spot something that is not learning related close-by. Good lighting will also help them with reading comfortably.
2. Set up a schedule
It can be hard for children to grasp the passage of time when they have no school bell to alert them. Setting up a schedule and making them stick to it not only helps them manage their time better, but also encourages self-discipline. A schedule also helps enforce adequate break times and homeworks hours, so they balance out work and rest.
3. Minimize distractions
Kids have a lot of things that can distract them at home, whether it be siblings, pets, toys or noises outside. Find ways to minimize these distractions, like having the sibling play in another room. Some children focus by doodling or fidgeting, you can find out whether they are paying attention by quizzing them about their lesson. Children may have different learning styles and you'll eventually be able to work out a way to help them focus.
4. Use a calendar
Besides keeping a schedule, a calendar will also help keep your child organized. Help them establish deadlines for homework and projects so they can plan their work. If they have a huge project with multiple tasks, break them down into steps and what they need to do. Colour-coding the calendar will also make it easier for them to see what subject and work they have to complete soon.
5. Get them out of the chair
Children already spend a lot of time sitting on their chair or lying down. A sedentary lifestyle can have negative effects on the child, as explained in our post 'Are You Moving Enough?'. Make sure they get some time to exercise or move around, as exercising can help students think better and reduce stress.
6. Make sure they have everything they need
Students encountering technical issues or needing to get out of their chair to get a notebook can break the flow of the class. Find out what they need like stationery, materials or software. Teaching older students how to deal with fixable technical problems on their own will prepare them for any problem that might pop up.
7. Reach out to teachers
Communicating with teachers helps keep you up to date with your child's progress. If your child is struggling with homework, lessons or class, it will be important to inform the teacher so that they can provide clarification or suggestions. Talking to teachers will also help you see which areas your child is improving in, so you can provide some positive reinforcement.
8. Find ways to support their learning
Each child is different and it will be hard for the teacher or you to instantly discover what works and what doesn't for your child. Some kids just need a little encouragement to get them on track, but some may also need you to help build their skills and habits with them. An example would be to ask for extra reading materials or recommendations for children who are struggling readers, and spend some time before bed reading with them.
It takes time to establish a proper routine, environment and schedule when it comes to online learning, as it is quite different from normal schooling. However, having this information on how to do it opens up avenues to more study options. You can gain access to quality education that's suitable for your child regardless of your location.
Looking for affordable world-class education? Try out PrepWorks Academy. Utilizing the National Curriculum for England, students get to work on their command of English and critical thinking skills, giving them a good headstart to international schools and studies abroad. Moreover, PrepWorks is providing a 20% off your school fees if you sign up for our classes this month.