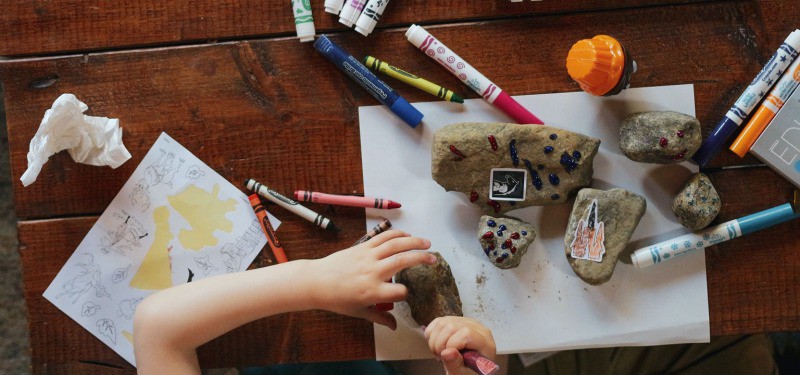 7 Tips in Cultivating Creativity
Fostering creativity in children is challenging as every child is different and there are no hard-set rules on how to get there. Getting kids to be creative sets them up for success, as they'll be able to think outside the box and not be limited by tried-and-tested solutions when they encounter challenges. It also gives them a chance to have fun when problem solving, improving their ability to handle stressful situations.
To create an environment that nurtures creativity, we must first think of our own definition of creativity, and how it can be seen in children:
What is creativity?
Creativity is not just about having kids create artwork. While leaving them with a blank canvas and tools can encourage their sense of discovery, they need a chance to develop their capabilities before reaching their full potential.
Creativity can mean the ability to improvise or innovate. Children need to be encouraged to do so in order for them to develop their thinking skills. As improvising and innovating both involve them stepping out of the comfort zone, making it a fun, non-stressful process will encourage them. Here's a few ways you can help kids be more creative:
Inspire them with examples
Ideas don't come from a vacuum. Kids draw inspiration from everything and anything around them, so being given a blank canvas or page to work on can be intimidating. Give them examples of what they can achieve for that 'spark' they need whether it be images, videos or items around the house. It helps them visualise what they want and they'll be finding ways to get there. If they have a tendency to copy, encourage them to modify instead of mimic.
Let them have fun and mess around
Let kids experiment with what they have. Often some kids might use unconventional approaches, such as doodling with the end of the paintbrush instead of using the brush itself. While it can be a bit messy and odd, this behaviour shows that they're fully utilising what they have and want to find new ways as well. Simple experimentation such as adding other ingredients to pancake batter or sandwich toppings are also good ways to spark creativity.
Have them try different things
Having access to different creative activities, materials and technology enables them to discover a lot more. As different people enjoy different things, different ways of creating matters. Some may enjoy making crafts, some cooking or building. The bottom line is, by having the opportunity to try out a little bit of everything, they'll get to find an activity they truly enjoy and also delve deeper into the creative process.
Highlight the process, not the product
When first venturing out into new activities or projects, there's a likelihood that kids would encounter failure or dissatisfaction. It's hard to get things right on the first try, but they should not be focusing on the end product and be having fun instead. The best part of these experiences should always be the learning process, and they might need reminding when things don't turn out the way they want them – that the time and effort they spent is seen as a 'waste'.
Collaborate
Get involved with their projects, or get them involved in yours. Ask for their opinions on what they think they can do to fix a problem or improve on, whether it be redecorating a space or planning a dinner. This gives them a chance to work on something that would otherwise be too challenging. With that, you both not only get to strengthen your bond, but also gain some new insight about each other's capabilities.
Ask questions
Asking them questions prompts them to think about their own thought process. Get to know where they got their ideas from or have them reflect on what inspired them. With every project, ask them what they learned, enjoyed or did not expect. This gives them a chance to view it as a positive experience. Even if a project goes wrong, have them verbalise the process, they will be able to reflect on what happened and what went wrong without much input.
Share your own thoughts
In turn, you can also share your own experiences and thought process with them. By talking about the creative projects you've undertaken as well, or the problems you had to solve, it helps them get used to opening up and feel more sure about themselves. They get to learn that mistakes happen and can be solved. It also gives them an idea of how your thought process works, and works as a model on how they can do it too.
Creativity is something that should be fostered not only at home, but during learning as well. PrepWorks Academy has small classes that promote discussion and thinking outside the box. Our students go beyond a normal school curriculum – brainstorming ideas and challenging their own thoughts and assumptions during learning.