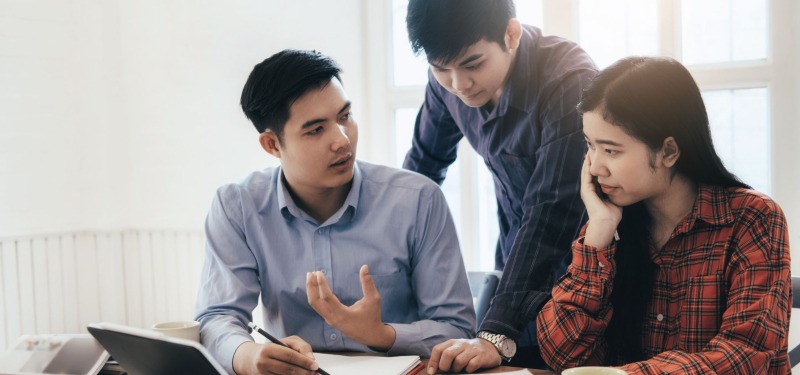 7 Reasons for Embracing the Awkward Silence
You've experienced the lulls in conversations or meetings, where everyone looks at each other in anticipation, hoping that someone would say something. Often, people feel compelled to provide an input due to that expectation or social pressure. However, are these  silences really that awkward?
Why is it an 'awkward' silence?
Silence is awkward because we find it unnatural. Due to the availability of quick communication, we now rely too much on instant gratification. We're used to the idea that people are supposed to respond as quickly as possible, or that silence means disinterest, confusion or even worse, boredom. 
Despite our worries, taking advantage of these pockets of silence can actually elevate the quality of our communication. Business leaders like Tim Cook, Jeff Bezos and Elon Musk are known to take their time when responding to questions. Cook is said to subject people to 'long, uncomfortable pauses'. This discomfort exists due to our expectation of an immediate reply. In fact, pausing a conversation is a good way to properly formulate your response, and a well-thought response that takes time is better than a half-baked one you receive instantly. 
Here's 7 reasons why you should embrace the lull in serious conversations:
1. Free yourself from distractions
When you're not pressured to respond immediately, you allow yourself time to truly focus on the issue at hand – an uninterrupted moment to come up with ideas.
2. Get to think critically
As you are able to put things into careful consideration, you can look at a problem from different angles and evaluate your own thoughts as well.
3. Get to the root of the problem effectively
Given time, you can get to the root of the problem quickly instead of relying on a back and forth with someone else to exchange the information you have.
4. Give more thoughtful answers
People want to know your reasoning behind your response. By coming up with a complex answer that explains your idea or point of view, you cut out the 'Why?' and skip straight to discussions.
Sometimes our judgement is based on the first emotion we feel. Stepping back to think prevents you from reacting instantly and gives you time to process your opinions.
You have a chance to work on what you want to say, ensuring that your message is clear and concise without needing to fumble for the right term or analogy.
After you've established your ideas and point of view, you have a very clear idea of what you need to say and will be able to express yourself confidently.
Putting this into practice can be difficult, especially when you've been conditioned to fill the silence with something. This is why children should be given the opportunity to hone this skill instead of being pushed to respond quickly all the time.
When explaining something to them, ask them open-ended questions or give them time to come up with their own answers. For instance, if they ask how a car works, you can ask them how they believe it works (without using the Internet!). Have them think about it or write notes, then present their ideas before going through the facts with them. Their creativity and perspective can be quite surprising!
Sharing silent moments can be a positive experience, especially when it creates meaningful communication. Give yourself, and the people around you, some space to think today. Have your child practice conversations that require critical thinking with StarWorks, our all-in-one enrichment program.