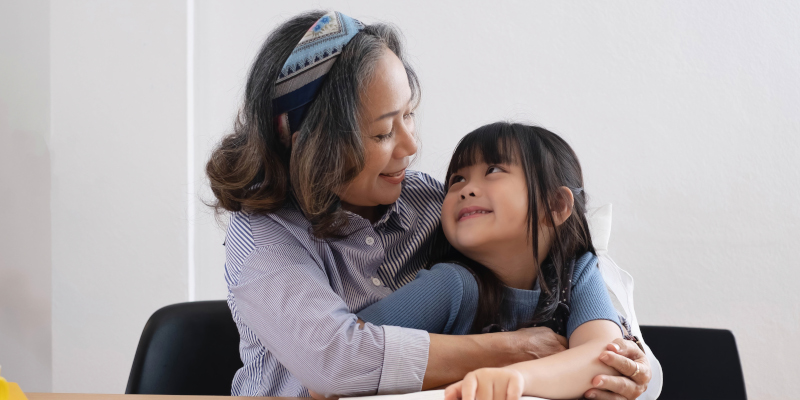 4 Ways to Help Sensitive Kids Realise Their Advantage
We may know a child that people describe as 'sensitive', and it's often seen as a negative thing. Sensitive children tend to get easily overwhelmed, or do not respond well to criticism. While emotional response (such as feeling upset when criticism is given) is hard to control, what these children can focus on is emotion regulation (processing the feeling of being upset and finding the right response). Therefore, it is important for parents or adults to help these children manage it rather than trying to get them to stop feeling that way.
What does 'highly sensitive' mean?
It is assumed that 15-20% of the total population can be described as highly sensitive, these people are able to notice subtle changes and are more affected by stimuli. Children who are sensitive can perceive how others are feeling based on inference. They also tend to get affected by the moods of others and find it difficult to ignore intense emotions such as anger or sadness.
As they are more affected by stimuli compared to others, they may get stressed out by loud or busy environments as well. Rushing them leads to negative effects, as they prefer to take their time and do things carefully. While it seems like sensitive children are harder to manage, the trait should not be treated as a negative thing. Just like how people more affected by cold weather carry a jacket when they leave home, sensitive children just need the right tools and encouragement to thrive.
Being sensitive is not a bad thing!
Children who are sensitive are more empathetic and feel a strong desire to help those in need. They find it easier to see things from different perspectives than others and are also aware of how they themselves feel. This means they have a great foundation to become high achievers and critical thinkers. Their openness and awareness means that they respond better to support, training and encouragement as well.
It can be difficult at first as sensitive children and their parents learn to navigate around the trait. One important thing to note is that they should not be made to feel like there is something wrong with them. The feelings are not the problem, but what they do in response to those feelings that can be harmful. Here's a few steps parents can take to help these kids thrive:
1. Set boundaries clearly
Be clear with what you expect from them, such as how they would behave at a family dinner, and explain the consequences if they do not meet the expectations. Acknowledge their feelings or discomfort if they try to reason with you, it can be something as simple as 'I know you are feeling tired, but please try not to be angry when someone speaks to you during dinner.' Similarly, if they want to set expectations within reason, work with them too. This shows that you care about how they feel and are not just trying to make them obey your wants.
2. Practise calm discipline
Sensitive children can take harsh discipline personally, as they feel like it is an attack on their self-worth or that they have ruined your view of them. Avoid rushing to punish bad behaviour, help them understand why they will be disciplined and give them space to regulate their emotions if they feel angry or upset. You want to help them improve, not make them feel afraid.
3. Guide them emotionally
As their guide, you are probably already teaching them emotional regulation skills every day. Children tend to model the behaviour of adults around them, so how you respond is an example for how they would respond. You can talk to them about your thought process as you are combating stressful situations, such as work issues or their meltdowns.
Teachers would like to know the best way to communicate with your child while still setting limits and ensuring discipline. Talking to teachers shows that you're aware of your child's needs and showing support. Avoid shaming your child or comparing them to other children as they process their emotions. Acknowledge their efforts to use their sensitivity, like when they show empathy for a friend.
Sensitivity can be a strength instead of being perceived as a weakness. Sensitive children face a different set of challenges as they are developing how they express themselves and regulate their emotions. With the right support, they will learn how to use their insight to help others and thrive.
Want your child to build empathy and understand different perspectives? StarWorks for Kids uses current affairs to widen their understanding of the world and issues people face. Students get to discuss opinions and share ideas with each other in an encouraging environment that lets them think outside the box. Join us every Saturday from 23 September and watch your child's mind flourish!